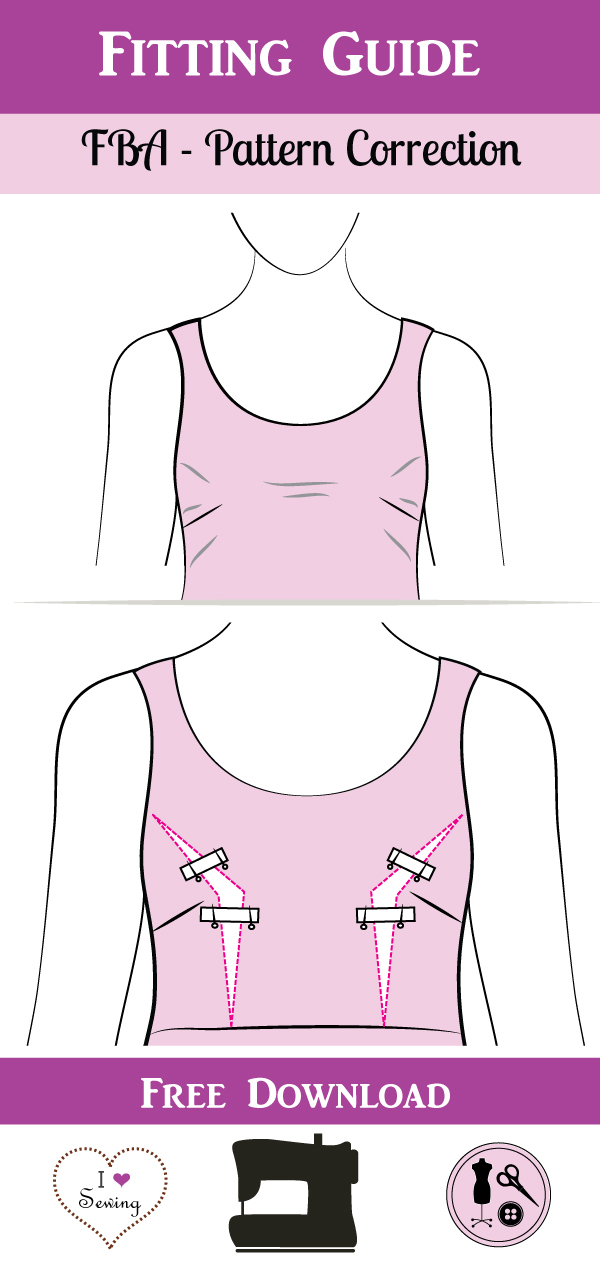 Helping You Create Clothes That Make You Feel Great By Providing Fashionable Sewing Patterns That Fit
Top Pattern correction for a Full Bust Adjustment (FBA).
This correction is for styles with side bust darts.
A full bust adjustment (FBA) is needed when the person has a larger Bust cup size than the sewing pattern was created for.
Most pattern companies create their sewing patterns based on standard B-cup bust size. If your cup size is larger than a B-cup, you will likely need to make this adjustment.
There are two ways of approaching an FBA. The more commonly done correction is to use the sewing pattern size of the waist, then add to the bust. I'll show this in option 1. This approach requires slashing and spreading (opening).
Option 1
For the more commonly taught first method of slashing and spreading. Let's say the body chart is 29" for the waist and the bust is 34." My target body measurements are 29" for the waist (same as pattern), but 36" for the bust.
This means, my target 36" bust is 2" bigger than the 34" pattern. I need to slash open my pattern 1" on each side of my bust (for a total of 2").
a) Identify the issue – The bust is tight, there is gaping at the neckline, armhole, or pulling around the bust.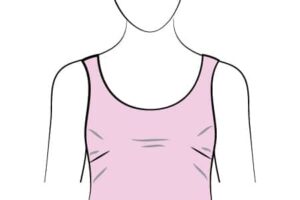 B) Cutting, Taping & Pinning the problem (when you've already sewn a muslin/toile): Cut the in the front bust area to zero (meaning stop cutting) at the waist and the armhole. Allow it to relax. Tape it open and Measure the amount that you've opened at the apex (high point of bust).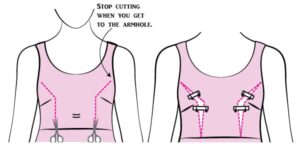 C) Correcting the problem: Cut/Slash the pattern as shown: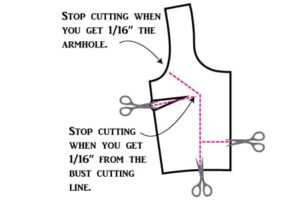 Open (Spread) the pattern as shown. At the apex, you'll make sure this amount you've opened is the same amount you've measured on your muslin. (Or the same amount you need based on your pattern measurements). You'll make the Vertical bust line parallel all the way down.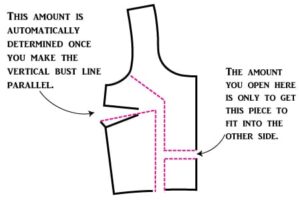 You'll mark where your Apex is. Redirect the dart point if needed. Then the dart point will be about 1" away for cup size C, 1 1/2" away for cup sizes D, E, and 2" away for cup sizes bigger than E.
You'll notice that this method increases the waist because we opened it parallel all the way down. If you don't want the waist larger, you would simply reduce it at the side seam to come to your measurement.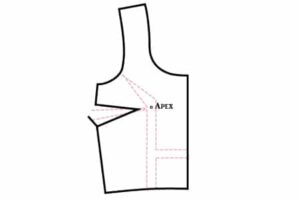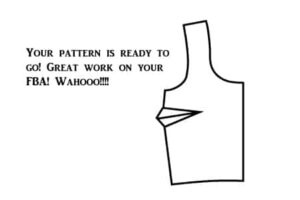 Download the FREE Tops fitting guide below which includes the top 5 fitting corrections on tops. For a complete reference of fitting corrections, buy The Fitting Book HERE.