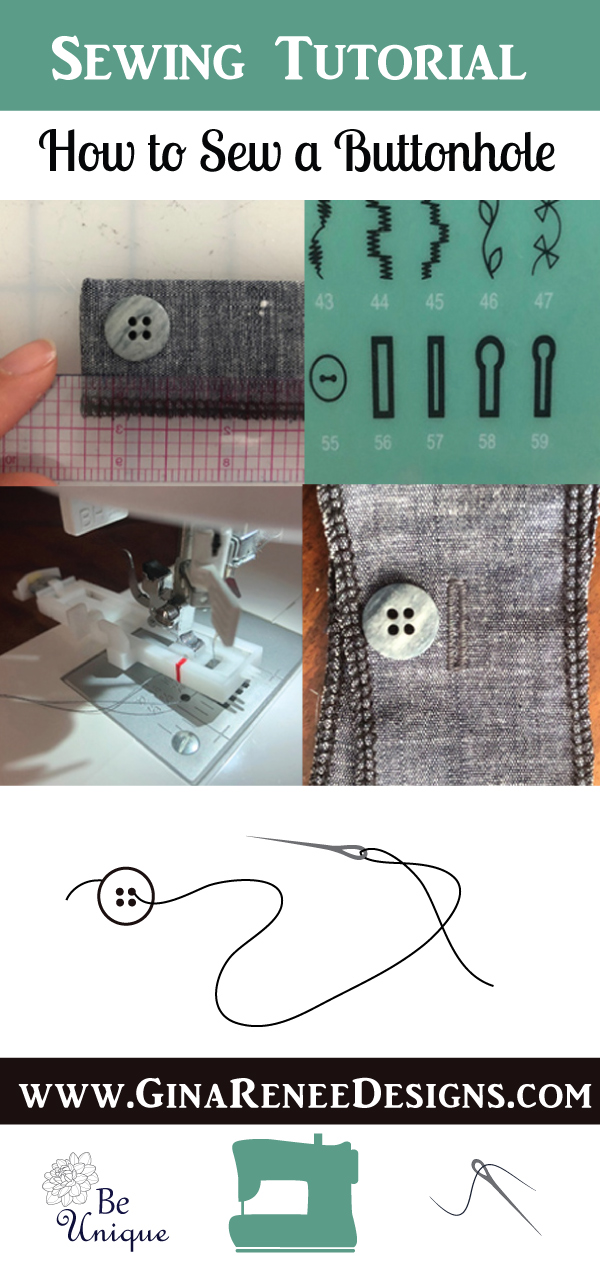 Helping You Create Clothes That Make You Feel Great By Providing Fashionable Sewing Patterns That Fit
How to Sew a Buttonhole
Download the free guide to follow along with the tutorial below.
Step 1: Place the button where you would like it to be in order to determine your buttonhole position. It should be about 1/8″ away from any edges. (consider seam allowances: the ruler here removes the visual of my seam allowance on the placket)
When you've established the position of the button, place a pin through the top hole of the button, lift the button up and mark just above this for the top of the button hole.
Step 2: Place the button in the buttonhole foot by sliding the holder tight to keep the button in place. Place the buttonhole foot onto the machine, with the button towards the back.

Step 3: Pull down the buttonhole guide and ensure it fits behind the plastic guide on the left side of the foot. Select the buttonhole stitch setting on the machine. Make sure the guide is straight and not pulled by the fabric thickness before you put the presser foot down. You want the foot and guide to be relaxed. Give the guide and the foot a slight wiggle to check.

Step 4. Do a test buttonhole first on a fabric scrap. Your buttonhole will mostly stitch backwards (some machines go forward a few stitches first as mine does). Starting at one end, align the red line with the end of your marked buttonhole. (the red line position will vary per different presser foots)

Step 5. Sew the buttonhole. Let the machine do the work. The feeder will move the fabric as needed. (In case your feeder is not moving the fabric due to a seam allowance bulkiness, see next image.)

Here's some links to some button hole pressure feet that may be suitable for your machine, if you do not already have one. Please double check these are compatible before purchasing 🙂
YEQIN Pressure Foot 1-Step Automatic Button Hole Foot For BROTHER CS8150 CS8060 NV500D/NV30/NV10/BC2500/ES2400 #XC2691051 (Ad)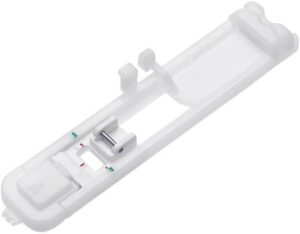 HONEYSEW Pressure Foot 1-Step Automatic Button Hole Foot / XC2691051 for Brother CS8060 CS8150 NV500D BC2500/ES2400/NV10/NV30#XC2691033 (Ad)
Gina Renee Designs is an affiliate of Amazon in order to help promote her favorite sewing tools. As an Amazon Associate, I earn from qualifying purchases.