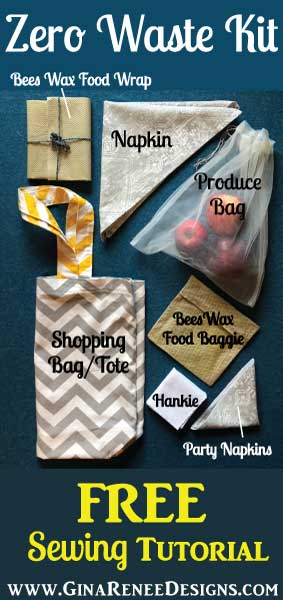 Helping You Create Clothes That Make You Feel Great By Providing Fashionable Sewing Patterns That Fit
Zero Waste Kit Sewing Tutorial
It's so important we all play a part in protecting our planet and reducing the amount of plastic waste.
This is a sewing tutorial, which means there are no actual patterns given. The tutorial tells you exactly what dimensions to cut the fabric pieces. Every piece is a square or a rectangle, so it's super easy for you to cut and prepare the items without physical patterns. As well, since this is a tutorial about Zero Waste, I thought it's not necessary to use more paper 🙂
This tutorial shows you how to create reusable and recyclable products, such as cloth napkins, cloth hankies,  reusable produce bags, beeswax food wraps & baggies.
I hope you enjoy this free guide!